We made this fajita recipe to bring you something worthy of Cinco de Mayo , but it's quickly become a regular in the rotation at Burch Barrel HQ. The shrimp seasoning packs a kick - but the real star of this recipe is the pineapple. Grilling the pineapple on the barrel caramelizes the fruit juice and takes the flavor over the top.
Hot tip - slice a few extra pineapple spears than you think you need - they'll get swiped before the shrimp is off the skewer.
After the fajitas are assembled, remove the grill grate from the Burch Barrel and enjoy your meal fireside.
1/4 tsp pepper
1/2 tsp garlic powder
2 tsp paprika
1 tsp onion powder
1 tsp cumin
1 tsp salt
2 Tbs olive oil - divided
1 Tbs chili Powder
1 red bell pepper
1 green bell pepper
1 orange bell pepper
2 cloves minced garlic
1 sliced medium red onion
1 sliced medium yellow onion
4 pineapple spears
1 pound large shrimp - defrosted
8-10 flour tortillas
    Garnish:
1 sliced avocado
1/4 cup cilantro - chopped
sliced limes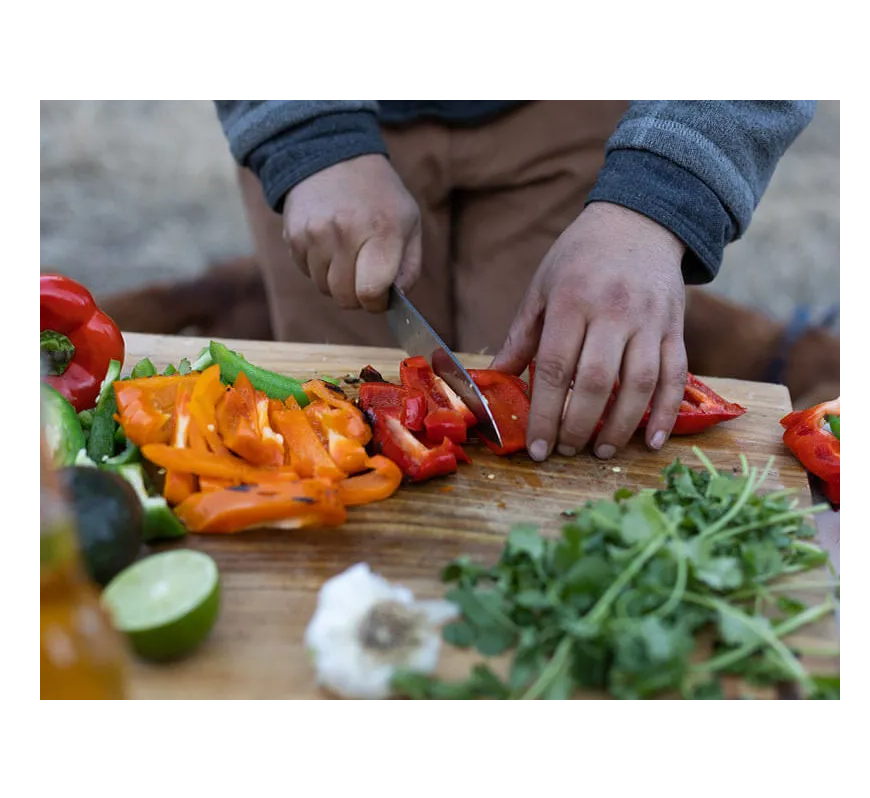 1. Build your fire on the Burch Barrel with the wood product of your choice (wood, charcoal, briquettes, etc) on the 4th notch and develop a bed of coals.
2. Peel and devein shrimp
3. Combine the shrimp in a bowl with 1 Tbs of olive oil, chili power, garlic powder, paprika, onion powder, cumin and salt and pepper. Toss lightly.
4. Assemble shrimp on skewers and place on the grill grate of the Burch Barrel.
5. Combine the garlic, red and yellow onion in a cast iron with 1 Tbs of olive oil. Saute until tender, stirring occasionally.
6. Place the green, orange and red peppers on the grill. Let them blister before removing them, slicing into strips and combining in the cast iron with the onion.
7. Remove shrimp from grill once blackened.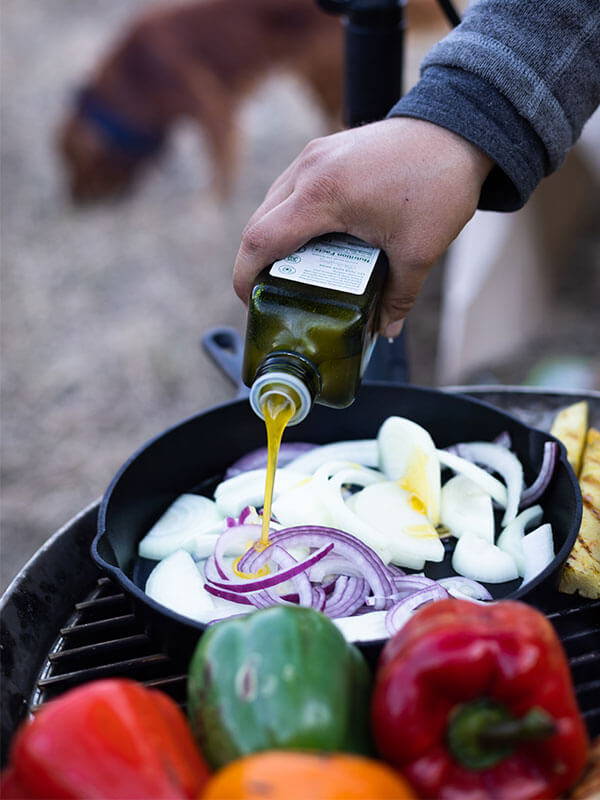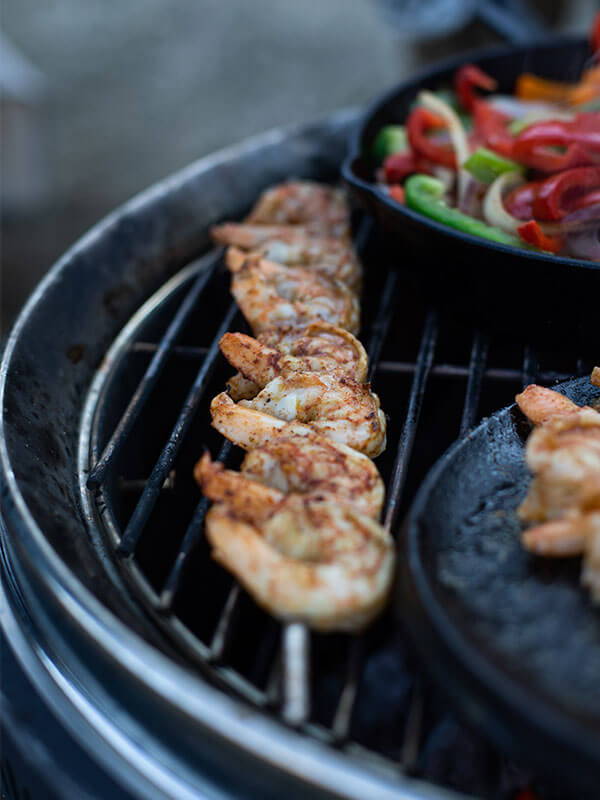 8. Add your sliced pineapple to the grill and let it develop grill marks for a few seconds before removing and slicing into smaller chunks. Set aside.
9. Place tortillas on the grill grate and let them develop grill marks for a few seconds before removing.
10. Assemble fajitas on tortillas and garnish with lime, avocado and cilantro as desired. Enjoy!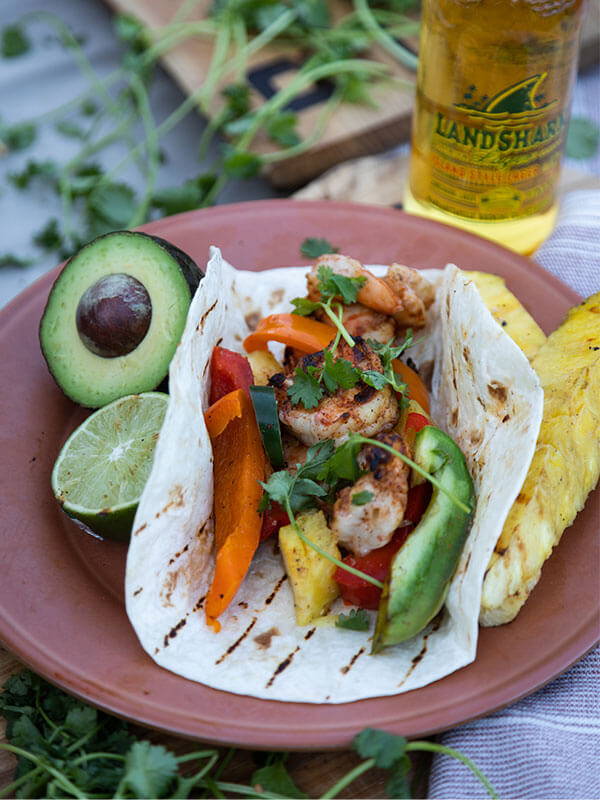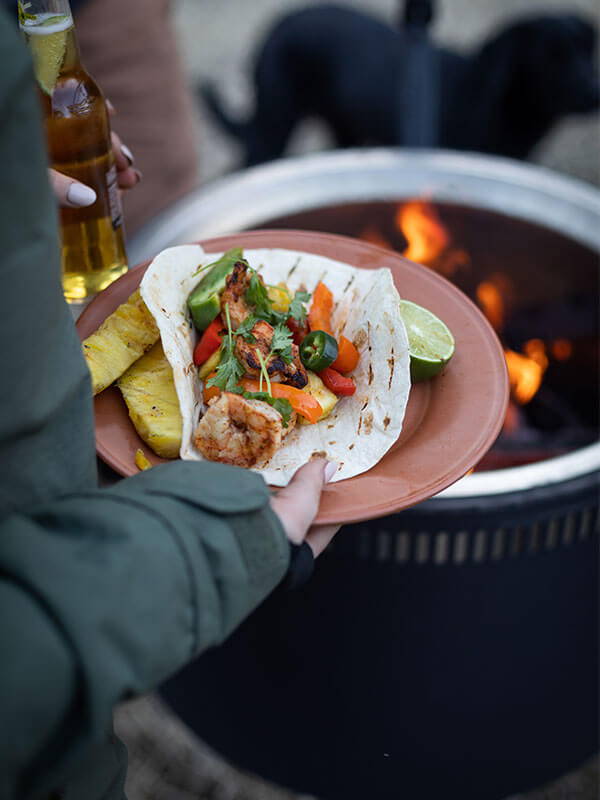 ---
Burch Barrel is committed to designing quality products centered around an authentic outdoor lifestyle that melds groundbreaking innovation with culinary excellence.