MONTANA MERRIAM SLIDERS WITH HUCKLEBERRY BBQ SAUCE
Some people get a bad taste in their mouth, when you say, "wild turkey". This recipe is sure to change their mind. The butter allows the turkey to remain juicy while you are grilling and when you are ready to slice. I love the addition of the huckleberry BBQ sauce. It's a simple recipe, but packs a lot of flavor to this slider. You'll want more sauce added after that first bite. Keep grilling and continue to enjoy your time creating with friends and family.
1 cup ketchup

⅓ cup brown sugar

¼ cup molasses

¼ cup raw honey

1 cup frozen huckleberries (you can substitute with frozen blueberries)

¼ cup bell pepper, chopped

2 sweet peppers, chopped

1 Garlic clove, minced

2 tsp chili pow

1 tsp paprika

tsp mustard

1 tsp salt

TB Garlic powder

5 TB butter
1. In a saucepan, combine all ingredients for the Huckleberry BBQ Sauce, except the butter.
2. Cook over medium heat, stirring until fully combined and the sauce is simmering.
3. Remove from heat. Stir in butter, until completely melted.
4. Let the sauce cool for about 10 minutes.
5. Transfer to a blender or food processor.
6. Blend until smooth. It's ready to use!
¼ cup brown sugar
2 tsp Worcestershire sauce
1 tsp Dijon mustard
5 TB butter

In a saucepan, combine all ingredients for the Sweet Roll Glaze. Stir until well combined and the sugar is dissolved. Set aside.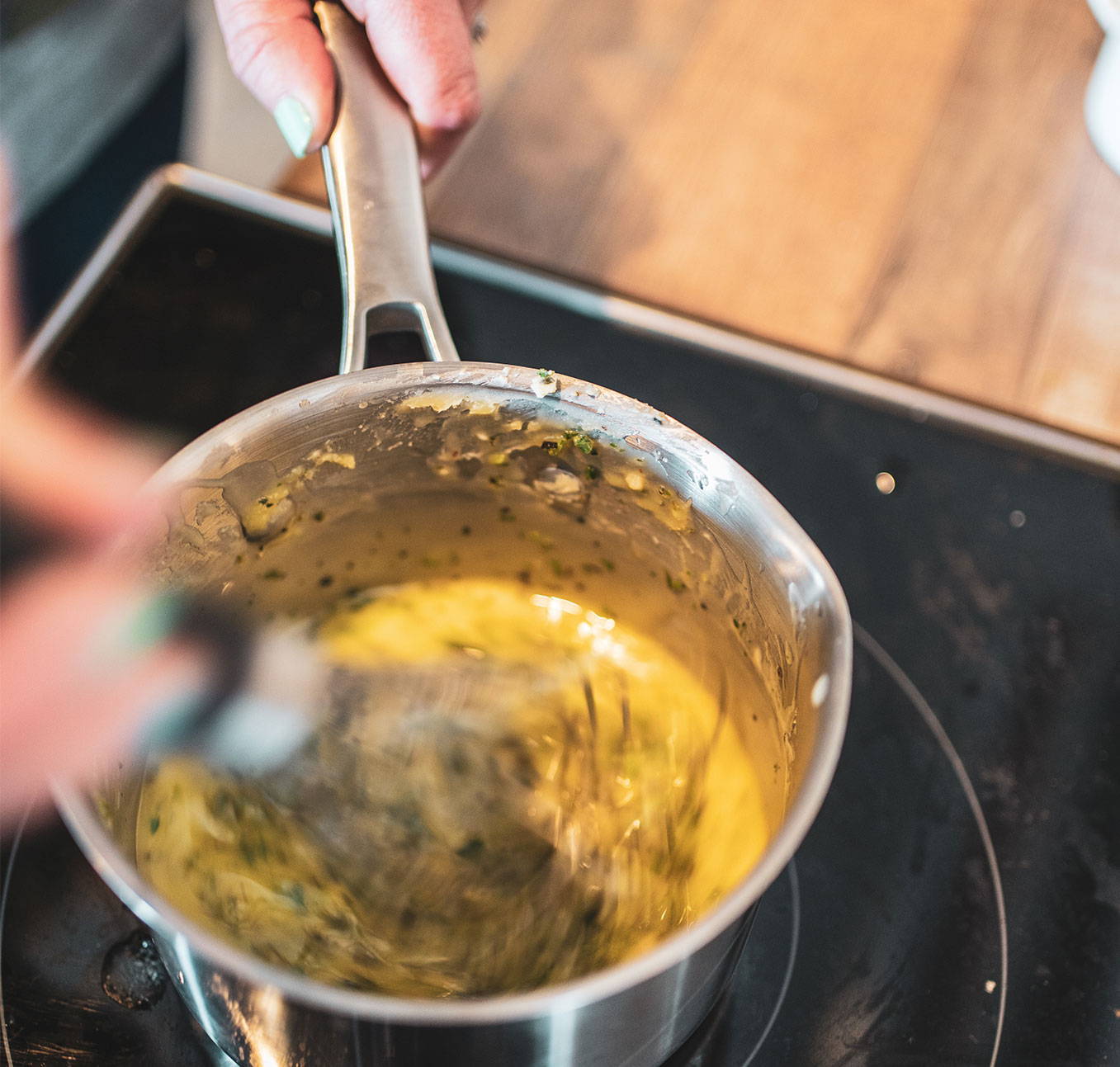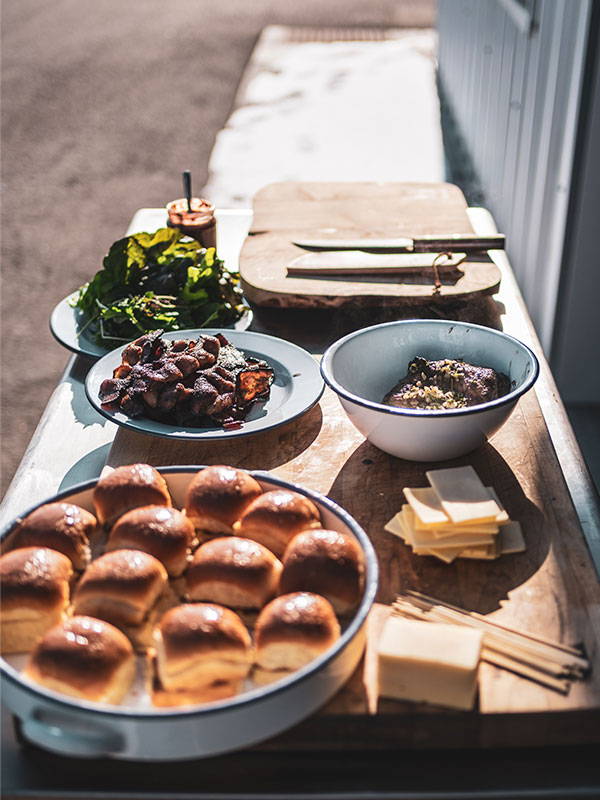 1 Wild Turkey Breast

Butter, 2 sticks (1 cup)

1 TB Dried Onion flakes

1 TB Fresh Parsley, chopped

2 tsp Fresh Rosemary, chopped

2 tsp Fresh Thyme, chopped,

1 tsp Savoury Seasoning, dried (can use Oregano, if not available)

1 lb Bacon, thick cut, grilled on indirect heat and cut in half

White Cheddar, 8-10 slices, cut from block, or 4-5 pre sliced pieces, cut in half

Red Romaine, leaves torn into slider sized pieces

Micro Greens to add a dash of color

Hawaiian Sweet Rolls, sliced liked a hamburger bun

8-10 Cocktail Skewers
1. On the Burch Barrel, and on the 4th notch, build your fire with lump coal and wood on one half of the coal pan, and maintain the coals there. This will allow you to cook your bacon on the indirect heat, as you are cooking your turkey directly over the hot coals.
2. In a saucepan, on the Barrel or stovetop, add the butter, onion flakes, and herbs. Melt and set aside.
3. Take your turkey breast and place in a pan. Pat dry.
4. Take a basting brush, and bast the turkey breast on both sides generously.
5. Place the turkey directly on the coal side of the Barrel. It's ok if there is a flare up, the fire will add really good flavor. Just make sure that it's not just smoke that's touching the turkey, depending on the wood you are using, it may create an off putting taste.
6. Place your bacon slices on the indirect side of the grill. Close the lid, lock in place and raise about 6 inches.
7. After a few minutes, lower the lid, unlock the grill grate, and check your bacon to ensure it is not burning. Bast the turkey, and flip it on the other side.
8. Turn your bacon, lock the lid and raise about 6 inches.
9. Repeat number 7.
10. Remove the bacon once it is browned and crispy, and cut in half. Set aside.
11. Continue basting and cooking your turkey until the internal temperature reaches 165 degrees.
12. Remove the turkey from the grill, and cover with foil and let rest.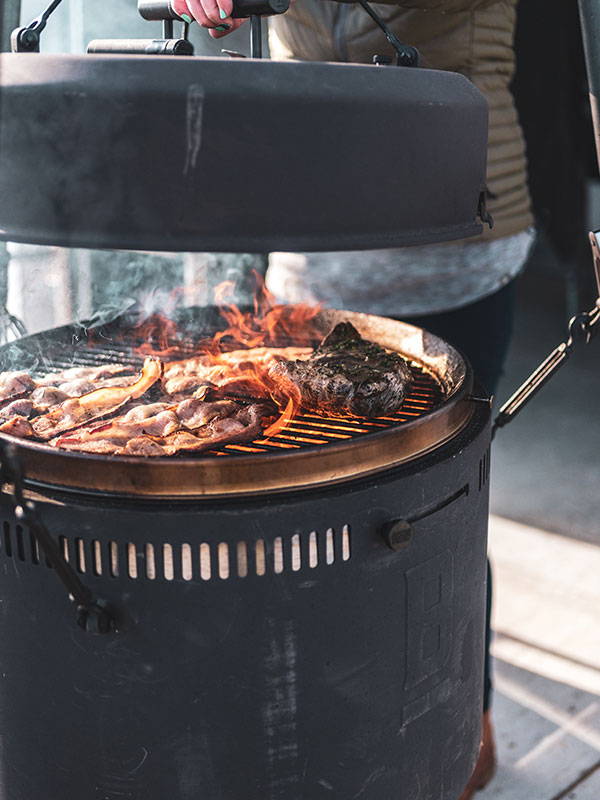 13. Take the sliced Hawaiian Sweet Rolls, using a basting brush, glaze the tops only of the sweet roll.
14. Once glazed, toast the inside of the sliced rolls on the grill. Should only take a few moments. Remove.
15. Gather all your components together to start building the slider. You'll need the toasted rolls, turkey (sliced very thin), white cheddar slices, cut bacon slices, greens, huckleberry BBQ sauce and skewers.
16. Start by taking the bottom piece of the sweet roll, add a white cheddar slice, sliced turkey, 2 cut bacon slices, spoonful of huckleberry BBQ sauce and some greens.
17. Take another cut slice of bacon, place on the top part of the slider bun. Take a skewer and place through the whole slider, holding it in place.
18. Continue until you have built 8-10 sliders. Serve immediately and savor the moment!