FIELD TO TABLE DINNER RECIPES
Honey & Heat Wild Turkey Yakitori
---
Skewers, soaked

Brined Turkey, sliced thin and weaved on skewers
1 egg

1 egg yolk

1 c. olive oil

2 tsp lemon juice (½ lemon)

2 garlic cloves, minced

1 TB yellow mustard

1 tsp red pepper flakes

2 TB MT honey

½ tsp salt
Add all ingredients into a mixing bowl. With emulsion blender, blend until thick and creamy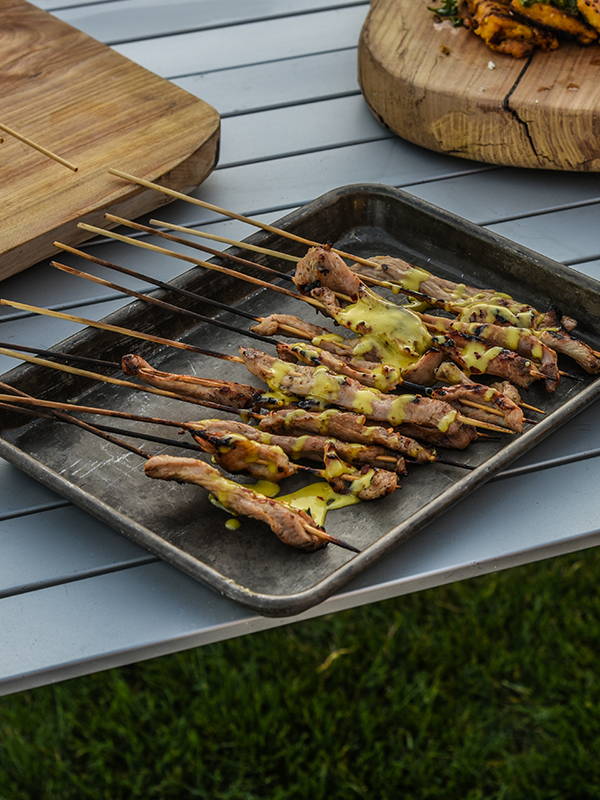 1 c. butter

1 c. honey

1/2 c. chicken stock

1 tsp red pepper flakes
Place all ingredients in a cast iron skillet, and let come to a low simmer, stirring frequently. Don't let the mixture over cook.
Assemble thinly sliced brined turkey on skewers and grill while basting in the sauce.
Place the grilled skewers in the center of your plate and drizzle with the sweet heat aioli.
Grilled Sun Dried Tomato Polenta w/ Venison, Chimichurri, Blistered Tomatoes, & Feta
---
Venison, tenderized, salt and peppered

Feta

Olive oil spray
4 c. water

2 c. vegetable or chicken stock

1 ½ to 2 c. medium to fine polenta

2 TB butter

⅔ c. sun dried tomatoes, chopped

¾ c. shredded parmesan cheese

S&P to taste

½ c. roasted garlic, minced
Let water and stock come to a boil

Add polenta, stirring constantly with a whisk

Once polenta finishes cooking, it should be very thick

Pull off the heat, and add all the other ingredients, adding butter last

In a 9x13 greased cookie sheet, pour polenta mixture and smooth, should be about ½" thick

Put in fridge and let completely cool

Remove from fridge and spray top with olive oil spray, and place on grill

Grill until both sides have nice grill marks

1 c. cilantro

1 c. parsley

1 red onion

2 tsp salt

½ tsp pepper

2 TB garlic, minced

1 tsp Italian seasoning

1 tsp red pepper flakes

⅔ c. olive oil

4 TB red wine vinegar

Place all ingredients into a food processor and chop until everything resembles a small chop
Cherry Tomatoes, washed

½ c. olive oil

1 tsp garlic cloves, minced

S&P to taste
In skillet, add 2 TB olive oil and tomatoes

On high heat, blister tomatoes until they start popping and dancing in the skillet and there are char marks on various sides of the tomatoes

Remove and place in mixing bowl

Add remaining olive oil, minced garlic and s&p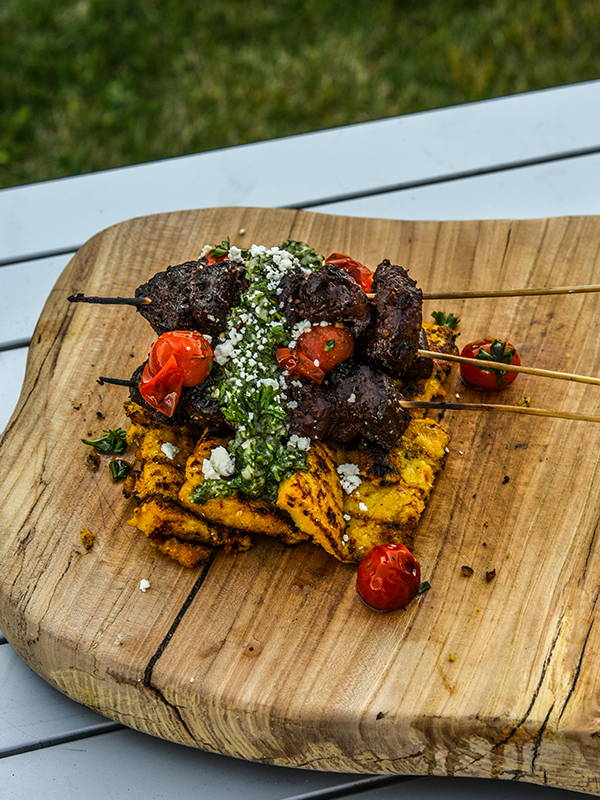 On plate, place the grilled polenta in center

Slice the venison very thin, and place 5 slices on top of the polenta

Across the middle, add 1 TB of the chimichurri

Place 3 blistered tomatoes mixture on top and lightly sprinkle with feta and serve
WHISKEY & WINE TASTING RECIPES
Grilled Venison and Toasted Sourdough with Huckleberry BBQ Sauce

---
Venison, tenderized, salt and peppered

Local Sourdough, sliced and toasted on the Barrel
1 ½ c. ketchup

⅓ c. brown sugar

¼ c. molasses

¼ c. honey

1 ⅔ c. frozen huckleberries

¼ bell pepper

2 large sweet peppers

1 garlic clove, minced

2 tsp chili powder

1 ½ tsp. Paprika

2 tsp dry mustard

1 tsp salt

5 TB butter

1 TB garlic powder
Place all ingredients, except the butter into a saucepan

Simmer for 20 minutes, stirring occasionally

Let cool for 1-15 minutes

Add butter and mix until melted

Add into a blender and blend until smooth
Grilled Venison and Rosemary New Potato Skewers

---
1 lb butter, melted

Venison, tenderized, cubed, salt and peppered

4.5 lbs Locally grown New Potatoes, par cooked and coated in rosemary butter

2 bunches Fresh Rosemary, minced

2 TB Garlic, minced

S&P to taste

Skewers, soaked
In saucepan, melt the butter, add the minced rosemary, garlic and s&p

Toss the new potatoes into the butter and par cook until just getting soft

Add 3 new potatoes and 3 pieces of cubed venison (alternating) to the skewer and grill until the steak is medium rare. Potatoes should finish cooking in the meantime.
MORE BURCH BARREL RECIPES